The College of Agriculture conducted the College-based Student Research In-House Review on May 16, 2022 in preparation for the 7th USM Student Research In-House Review.
The USM CA In-House Review was categorized into Applied Science, Basic Science and Social Science.    Graduating students from the Departments of Animal Science, Crop Protection (Entomology and Plant Pathology), Crop Science (Horticulture and Soil Science), and Fisheries participated in the said event.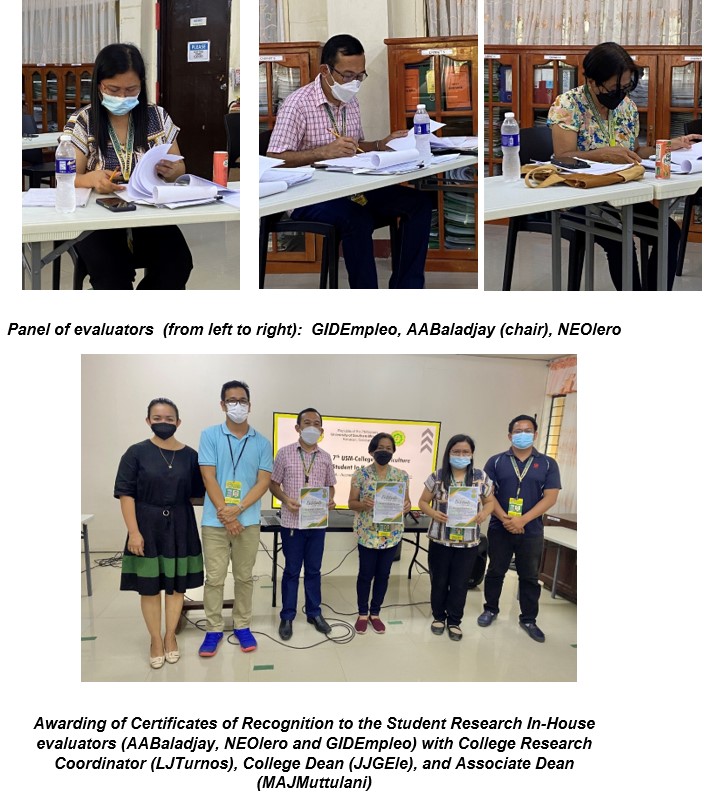 There were 13 papers for oral presentation and 12 papers for the poster competition.   In all categories, three experts from USM evaluated the papers and the posters. They are Dr. Ardniel A. Baladjay (College Extension Coordinator) as the Chair of the Evaluation Committee, Dr.  Gwen Iris D. Empleo (Division Head, Plant Breeding and Genetics) and Ms. Nenita E. Olero (Senior Science Research Specialist).
Awards for best paper and poster were evaluated based on the set criteria provided by the Research and Development Office (RDO).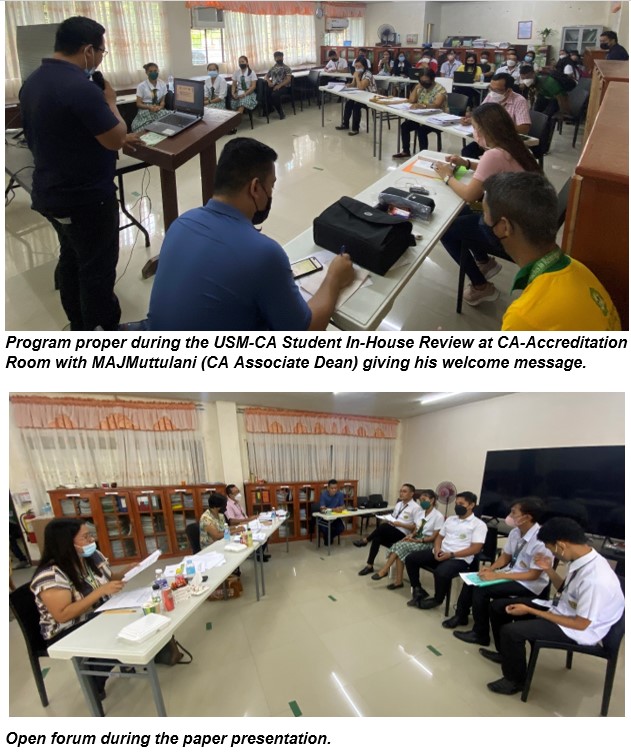 Prior to the conduct of the College-based activity, each division carried out division-level paper evaluation among its graduating students. Since only one research slot per category is allotted per college for the University In-House Review, only one paper per category from each division was selected to compete for the College In-House Review.
In a speech, Dr. Julius Jerome G. Ele, College Dean emphasized that the fact that all the participating students were already chosen by their respective division, it only means that they are already winners. They will not be selected to represent their division if their research outputs are not remarkable.  Further, he said that the best output from the different promising research will be representing the college.
All student-participants and thesis advisers were given Certificates of Participation, however, only the top three winners per category were awarded and given Certificates of Recognition, in addition to the cash prize for the top 3 in oral and top 1 in poster presentation.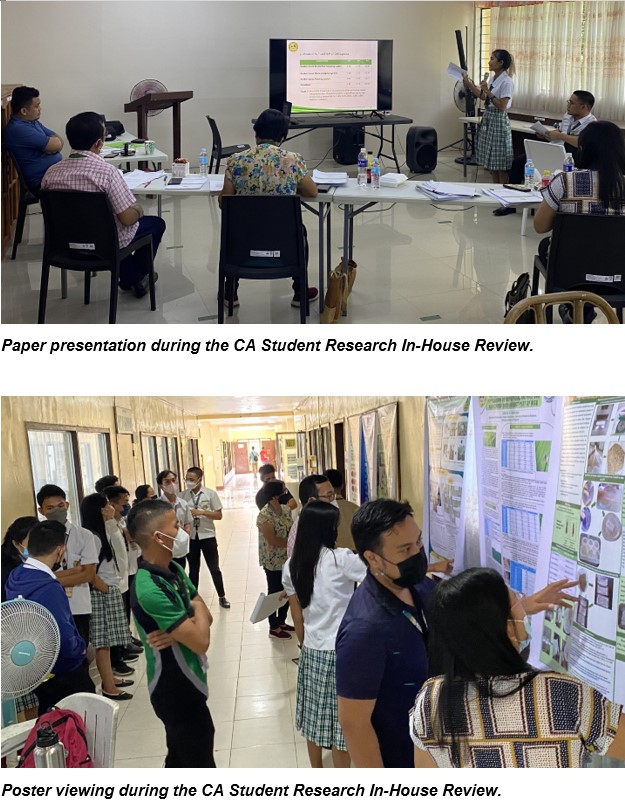 The following were the winners for the 7th CA Student Research In-House Review.
Paper Presentation:  Applied Science
| | | | | |
| --- | --- | --- | --- | --- |
| Rank | Research Title | Researcher | Adviser | Department/ Division |
| 1 | Evaluation of Ovaprim and Human Chorionic Gonadotropin (Hcg) in the Spawning Induction and Egg Quality of Mudfish (Channa striata) | Aira Joy C. Suarez | Pia Amabelle M. Flores | Fisheries |
| 2 | Antifungal Activity of Saba (Musa acuminata x balbisiana) Banana Peels Against Aspergillus flavus Causing Corn Ear Rot | Excellaine M. Elumba | Clark I. Maarat | Crop Protection (Plant Pathology) |
| 3 | Management of Major Insect Pests of Eggplant of Rubber and Annual Intercrops in a Rubber-Based Farming System | Jejomar L. Parojinog | Joeseph S. Quisado | Crop Protection (Entomology) |
Paper Presentation:  Basic Science
| | | | | |
| --- | --- | --- | --- | --- |
| Rank | Research Title | Researcher | Adviser | Department/ Division |
| 1 | Identification and Incidence of Fungal Diseases in Five Varieties of Adlai (Coix lacrymba-jobi L.) Planted Under USMARDC Condition | John A. Sasi | Tamie C. Solpot | Crop Protection (Plant Pathology) |
| 2 | Soil Organic Carbon Sequestration in Rubber-Based System at Various Elevations in North Cotabato | Spencer John P. Eborde | Adeflor G. Garcia | Crop Science  (Soil Science) |
| 3 | Fungi Associated with Stored Legumes and Their Potential as Mycotoxin Producer | Paquito M. Caluban II | Joan P. Sadoral | Crop Protection (Plant Pathology) |
Paper Presentation:  Social Science
| | | | | |
| --- | --- | --- | --- | --- |
| Rank | Research Title | Researcher | Adviser | Department/ Division |
| 1 | Assessment of Postharvest Handling by Tampakan Public Vendors Focusing on Soft Rot of Vegetables | Shania Nicole C. Marcelino | Clark I. Maarat | Crop Protection (Plant Pathology) |
| 2 | Survey on Occurrence and Severity of Swollen Shoot Disease and Vascular Streak Dieback of Cacao in North Cotabato | Mohammer D. Razid | Clark I. Maarat | Crop Protection (Plant Pathology) |
Poster Presentation:  Applied Science
| | | | | |
| --- | --- | --- | --- | --- |
| Rank | Research Title | Researcher | Adviser | Department/ Division |
| 1 | Formulation of Adelfa (Nerium oleander L.) Extract as Biofungicidal Spray Against Colletotrichum capsica Causing Anthracnose of Bell Pepper | Weni Lou D. Calibayan | Clark I. Maarat | Crop Protection (Plant Pathology) |
| 2 | Utilization of Microbial Inoculants for the Management of Fusarium wilt (Fusarium odoratissimum) in Banana Lakatan | Miguella C. Arsula | Tamie C. Solpot | Crop Protection (Plant Pathology) |
| 3 | Entomopathogenic Fungi as a Biological Control Against Storage Pests of Rice Seeds | Ralph Marc P. Jumamoy | Joeseph S. Quisado | Crop Protection (Entomology) |
Poster Presentation:  Basic Science
| | | | | |
| --- | --- | --- | --- | --- |
| Rank | Research Title | Researcher | Adviser | Department/ Division |
| 1 | Identification and Incidence of Fungal Diseases in Five Varieties of Adlai (Coix lacrymba-jobi L.) Planted Under USMARDC Condition | John A. Sasi | Tamie C. Solpot | Crop Protection (Plant Pathology) |
| 2 | Fungi Associated with Stored Legumes and Their Potential as Mycotoxin Producer | Paquito M. Caluban II | Joan P. Sadoral | Crop Protection (Plant Pathology) |
| 3 | Natural Enemies Profile of Lanzones Mussel Scale Insect and Cacao Pod Borer at University of Southern Mindanao | Marianne F. Rollo | Joeseph S. Quisado | Crop Protection (Entomology) |
Poster Presentation:  Social Science
| | | | | |
| --- | --- | --- | --- | --- |
| Rank | Research Title | Researcher | Adviser | Department/ Division |
| 1 | Assessment of Postharvest Handling by Tampakan Public Vendors Focusing on Soft Rot of Vegetables | Shania Nicole C. Marcelino | Clark I. Maarat | Crop Protection (Plant Pathology) |
| 2 | Survey on Occurrence and Severity of Swollen Shoot Disease and Vascular Streak Dieback of Cacao in North Cotabato | Mohammer D. Razid | Clark I. Maarat | Crop Protection (Plant Pathology) |